When considering a metal roof for your home or business, it is important to understand the durability metal roofing provides. Metal roofing is becoming an increasingly popular choice of roofing material for many home and business owners across the nation. At A-Lert Roof Systems, we are dedicated to bringing you the best metal roofing materials, solutions, installations, and warranties in the industry, including our revolutionary Kynar® metal roofing. Anyone in the market for a new metal roof should research and understand the advantages of Kynar 500® painted finish. With more than 40 years of experience, you can rely on the experts at A-Lert Roof Systems to deliver the critical knowledge you need to make an informed decision that can improve the longevity of your investment for decades to come.
What is Kynar® Metal Roofing?
Kynar 500® is a resin-based coating that is applied by licensed paint manufacturers on aluminum, galvanized steel, and aluminized steel. This innovative coating is mainly used in the metal roofing industry to add extra protection to metal roof panels to ensure investors get the most out of their metal roofing product. Expert installation is required for Kynar coated roof panels to perform effectively. If there is any damage, such as scratches or dents, that occur during the installation process, your roof material will be exposed to the elements, reducing the efficiency of your roofing system.
A-Lert Roof Systems has been setting the standards for standing seam metal roof installations for the past four decades. Our process allows us to expertly install and secure Kynar®-coated metal roofing panels with ease. We are so confident in our installation that our roofing systems are backed with a 20-year Watertight Warranty backed by an institution of more than $10 million in net worth with a single project bonding capacity of over $12 million per project. No matter what the installation, you can feel safely covered with us.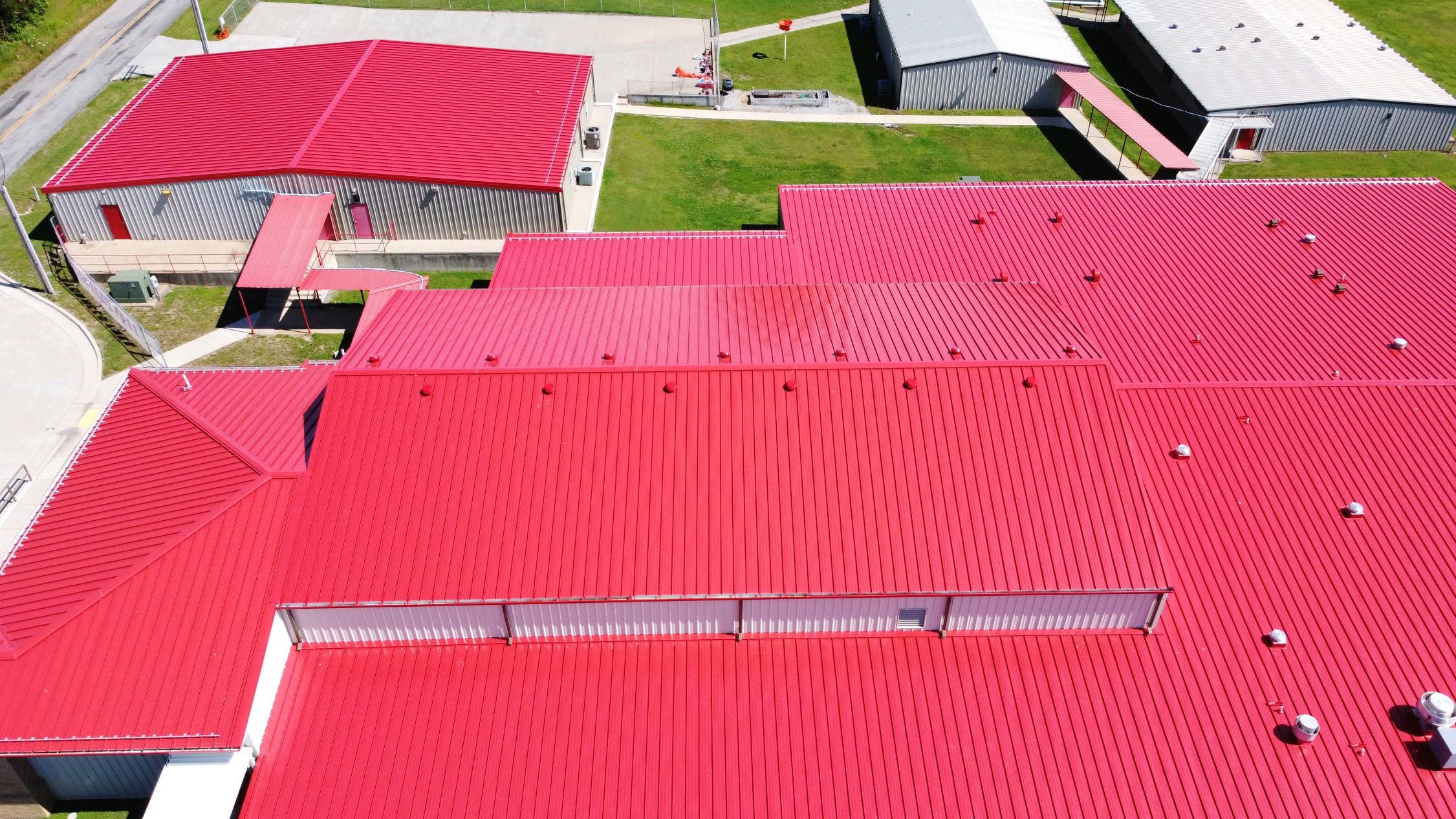 Is Kynar® Worth The Cost?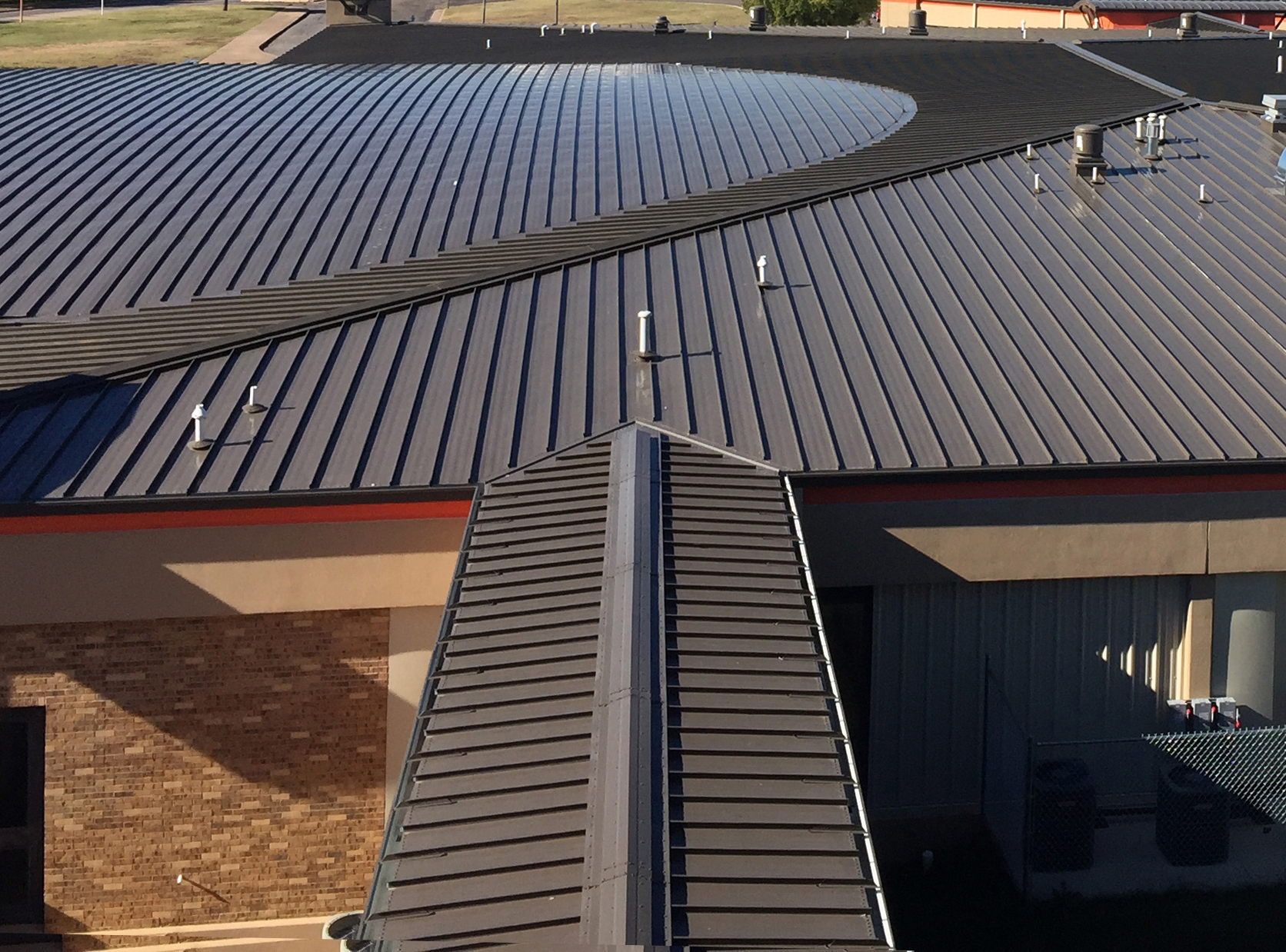 There are many benefits to a Kynar® Metal Roof:  
Energy Efficient: With a solar reflectance of over 70%, the Kynar 500® application can result in less heat transfer into your building or home

Energy-saving estimates of anywhere from 30-40% during warmer months

Can withstand elements including sun, humidity, urban grime, acid rain, corrosive salt, and abrasion 

Low maintenance & fewer repairs

Ability to retain color

Increased property value

Added durability

Variety of colors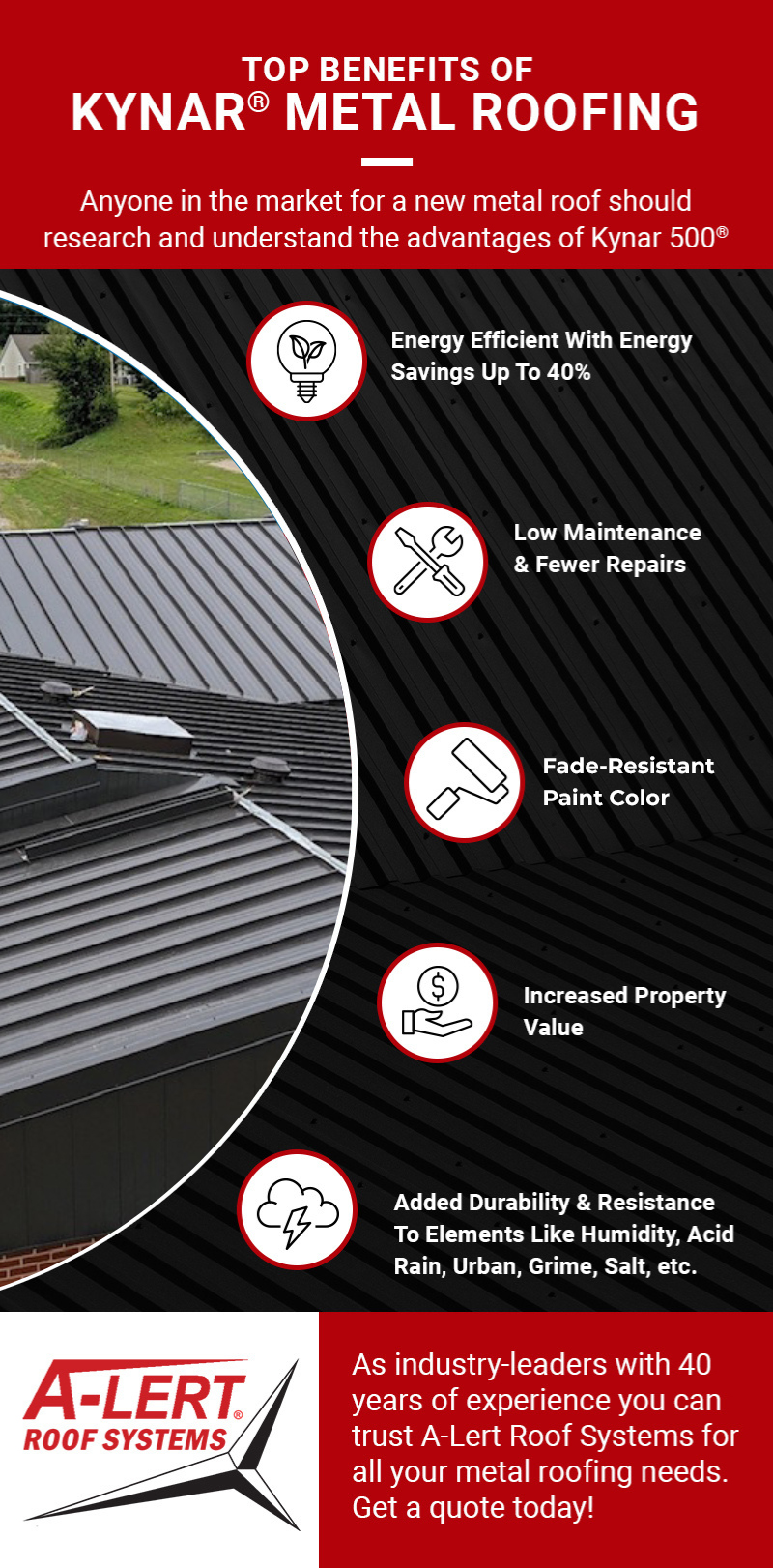 Along with the performance-leading energy efficiency of Kynar®, this resin-based coating also comes in a wide range of metal roof colors that are resistant to fading. When you partner with A-Lert Roof Systems for a Kynar® metal roofing system, you are not only protected with our 20-year Watertight Warranty, but also a 30-year Kynar® paint warranty on your metal panels to protect your investment. When installed correctly, your Kynar® roof system should outperform the length of your warranties, giving you a reliable product for decades to come.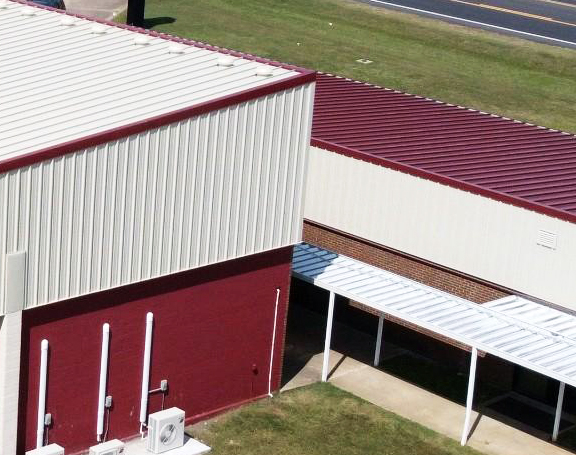 How Much Does Kynar® Cost?
There is no set price when it comes to metal roofing because no two jobs are the same, however, there is a common baseline. For Kynar 500® products, you can expect roughly to pay from $8.50 - $12.00 per square foot of roof space. Also like many products these days, there are a variety of Kynar® metal roof colors to choose from when considering Kynar 500® prices.
Don't let these prices shy you away from making the right investment decision for your roofing needs. At A-Lert Roof Systems, our team provides the most accurate and thorough metal roofing quotes, as well as has the highest quality of materials to ensure your investment is built to last. In fact, many of our early roofing systems are still performing well with individual roofs known to last for 50 years or more regularly. Contact our expert team for all your metal roofing needs!