Get a Roof That Protects for Longer
With A-Lert Roof Systems, you not only get one of the finest constructed standing metal seam roofs available, but you also get one of the best warranties as well! While we hope you never have to use it, all of our metal roofs are covered by a 20-year warranty for both materials and construction!
What You Can Expect To Receive With An A-Lert Roof and Warranty:
A roof that is watertight and made of some of the strongest, most durable metal roofing components available

A warranty that covers both material and construction, that you'll hopefully never need

A responsive customer care team that will address any roofing needs that come up and are covered by your warranty

Peace of mind that your investment is safe for at least 20 years.
Warranty
Metal roofing materials typically come with 20-year warranties, significantly longer than most built-up or single-ply systems. In addition to the material warranty, A-Lert also provides a 20-year Watertight Warranty on the construction of the roof.
Our single-source warranty eliminates the potential dispute between contractors and material manufacturers. Additionally, our warranty is backed by nearly 40 years of experience and the financial strength of Centurion Industries.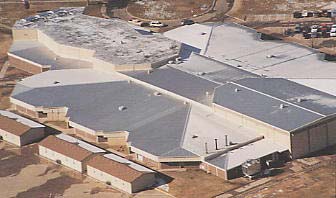 Retrofit roof project on Arkansas City Middle School, Arkansas City, KS
To get one of the best warranties in the industry, and a roof that is unlikely to use it much anyways, contact A-Lert Roof Systems today for all your new construction and retrofitting needs. We want to be the first and only logical choice in standing seam metal roofing. Contact us today to see why we think we can be!